Thanks to the annual Texas Arts & Music Festival, Brenham now has many beautiful works of art along the downtown streets. Download the checklist to get started! As you walk along and admire each piece, take a selfie and tag it #BrenhamArtWalk so we can walk with you!
Throughout Downtown Brenham, there are at least 18 different murals, sculptures and other artistic expressions. Additionally, there are four art galleries downtown and a pottery gallery just 15 minutes north of Brenham, all of which are well worth a visit.
Visit each year to see new murals painted during the festival. Brenham might even have city electrical transformers painted soon!
#BrenhamArtWalk
Find all the art with this handy checklist. Mark each one off as you find it, and don't forget to post your pics on Instagram and tag them #BrenhamArtWalk.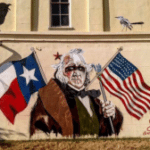 Use the official app to access the #BrenhamArtWalk walking tour, complete with map and images!