Brenham BBQ Family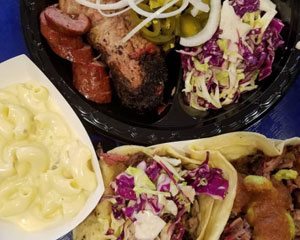 Some of the world's great inventions have been accidents. In 1895, German physicist Wilhelm Röntgen accidentally discovered invisible rays that made internal body structures visible. He didn't know what they were, so he called them X-rays.
In 1955, Swiss electrical engineer George de Mestral thought up Velcro while picking pesky cockleburs from his clothing following a walk.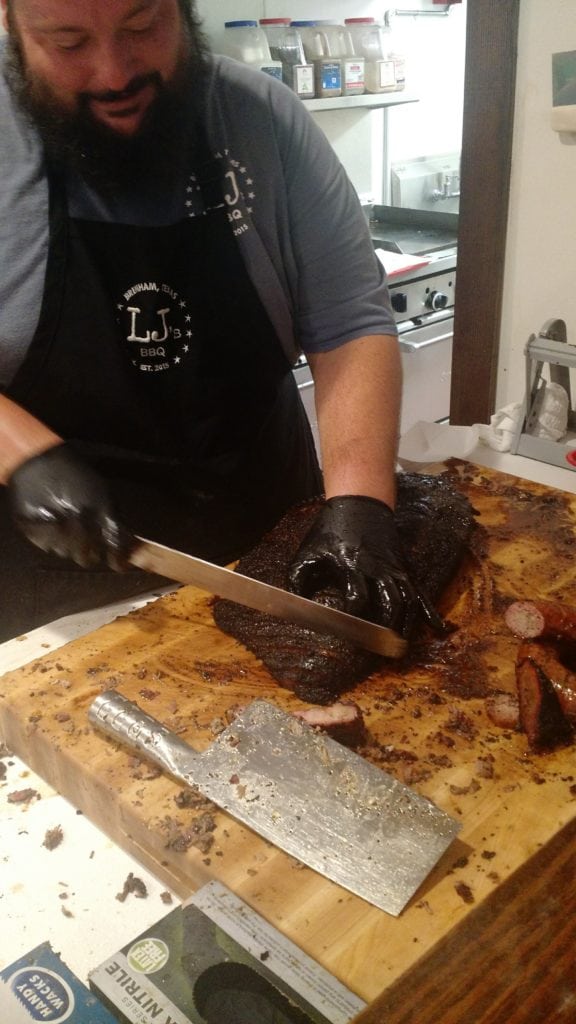 And in 2016, food engineer Matt Lowery invented comfort food perfection the day he tossed leftover brisket into his LJ's BBQ mac 'n cheese. "It happened by accident," says Lowery, who with his cousin and LJ's co-owner Corey Cook, serves up fork-tender brisket, turkey, sausage, ribs, and homemade sides "until 6 or sold out" every Wednesday through Saturday.
And did I mention the brisket mac 'n cheese? It is a creamy, scrumptious serving of Down South. It. Is. Divine.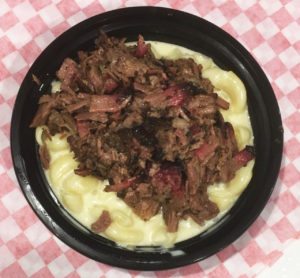 The recipe starts every day with 2½ pounds of butter, 10 pounds of pepper jack and white American cheese, and a top-secret roux that keeps the sauce as creamy at 2 as it was at 10. Of course, that last detail is irrelevant on days when they run out.
On the day of my visit – an otherwise average September Thursday when the food gods opened the heavens and anointed my lips with BBQ perfection – the cooking cousins were sold out by 1:30 p.m. Patron after disappointed patron drove up, saw the closed sign, and drove off – their hopes deferred for another day.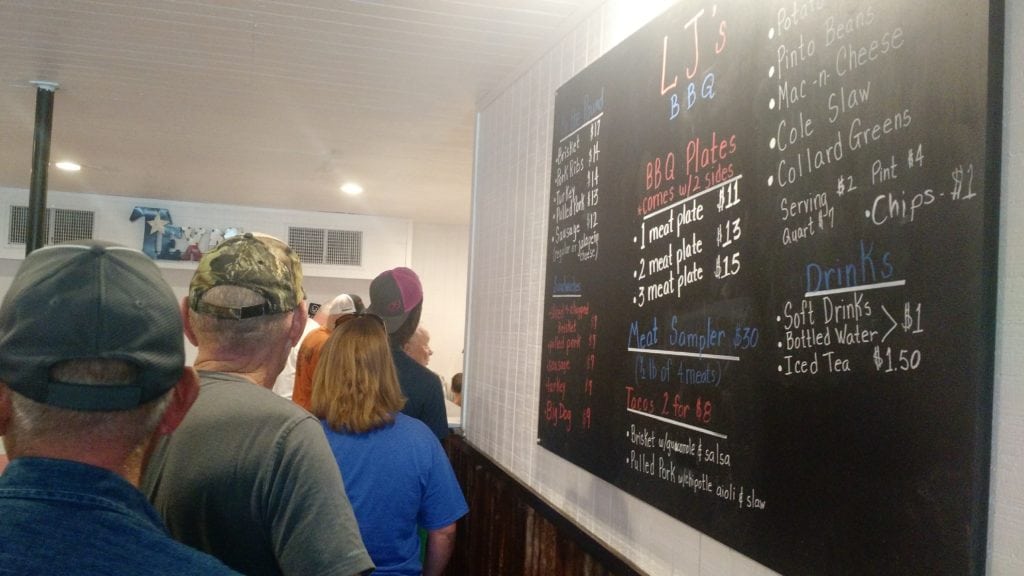 Matt and Corey both have deep roots in Brenham, where they are as serious about community as they are about BBQ. They have fed sports teams, first responders, and the 400 National Guard troops who were stationed in Brenham during Hurricane Harvey relief efforts in Houston. And after work, they're the kind of guys who buy the first round.
Here's how I know. On that average September Thursday when my husband Greg and I stopped at Home Sweet Farm to unwind, Matt and Corey boomed out a welcome, asked what we were drinking, and added it to their tab. We swapped stories. We made predictions about whether the Astros would win it all. And as we clinked bottles, I turned to Corey and said, "You're treating us like we're old friends."
He flashed a hint of surprise. "You are," he said, motioning for my husband and me to take their seats at the bar.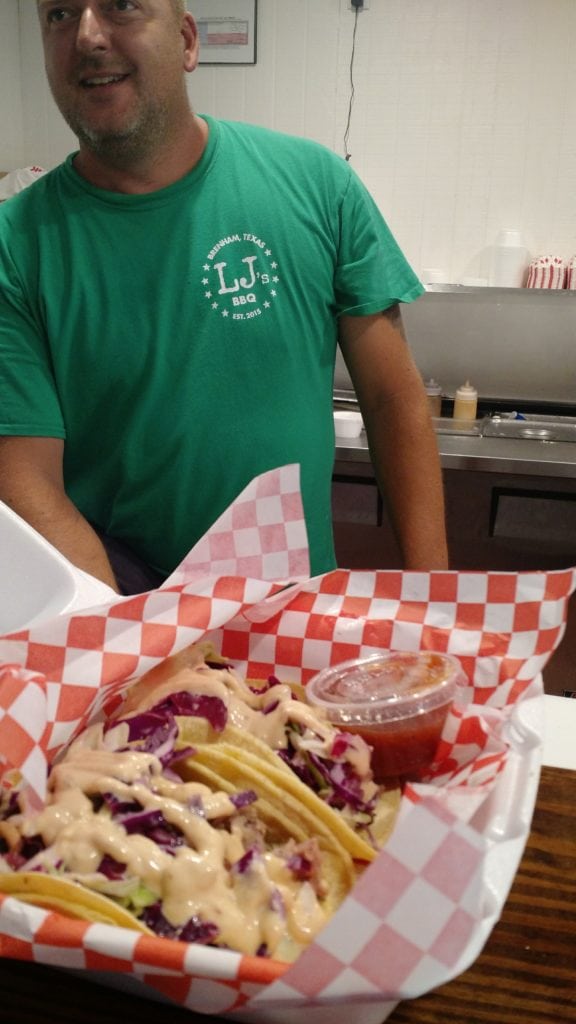 These guys. They're all about BBQ. They're all about Brenham. And that's no accident.
Where is this? 1407 W. Main St., Brenham
When to go? Wednesday through Saturday, 11 a.m. until 6 or sold out. LJ's Facebook page is updated when the food runs out daily.
What's the best? The tacos. The mac 'n cheese. The brisket. Oh, who am I kidding, it's ALL the best!
Who love's LJ's? Tell us about it below! Maybe you're a fan of Nathan's or Truth or Chappell Hill or R-Place? Take your pick – we have plenty of delicious options you do not want to miss.
---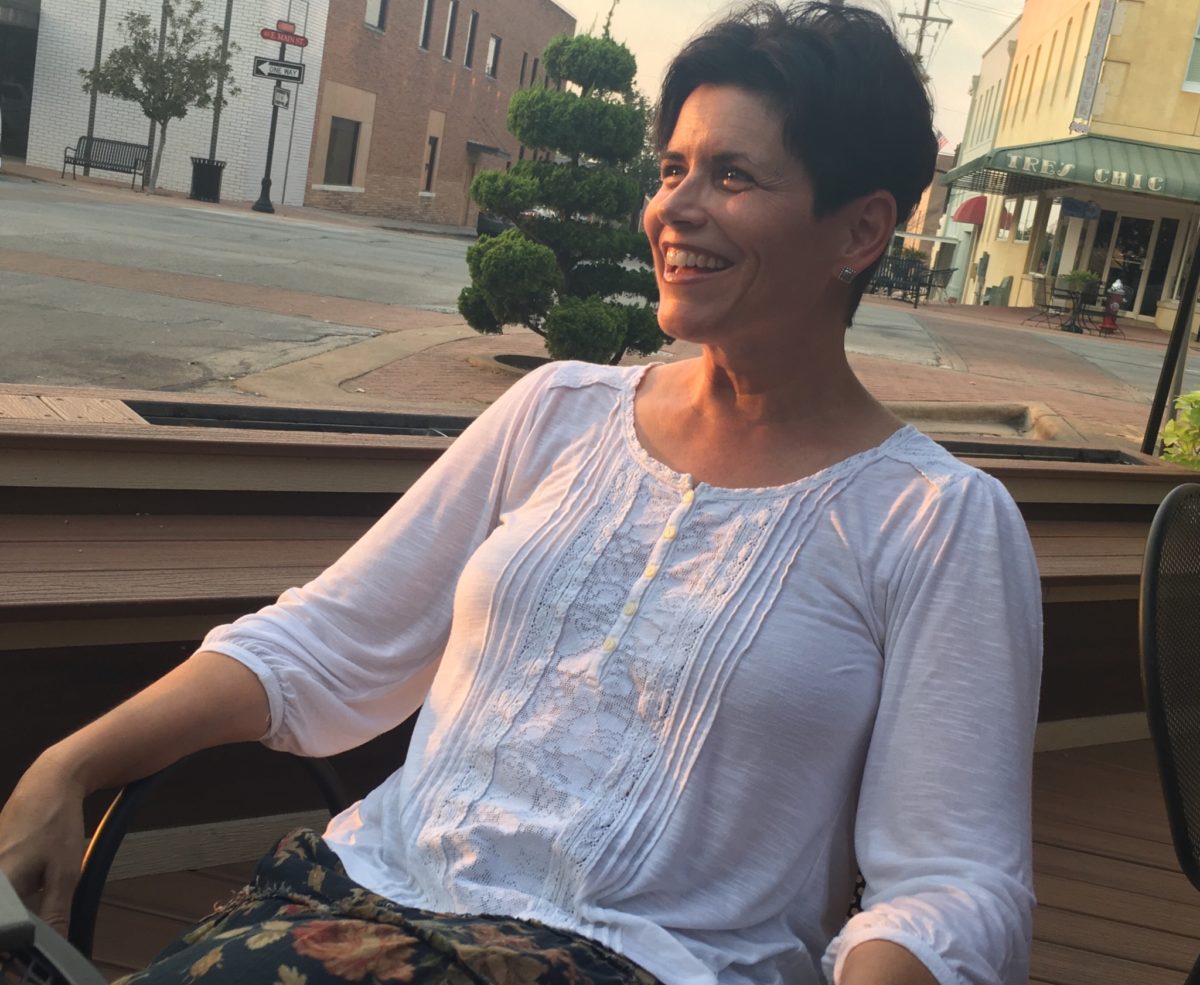 Freelance writer, Laurie Davies, works from home in the Phoenix area, where she enjoys her 10-second morning commute. Her teenage son is a Texan, with a birth certificate shaped like the state of Texas to prove it. Every time Davies visits the Lone Star State she flirts with moving back, but for now she laments the lack of good BBQ in Arizona and writes regularly about beautiful Washington County.