Clydesdales Come to Brenham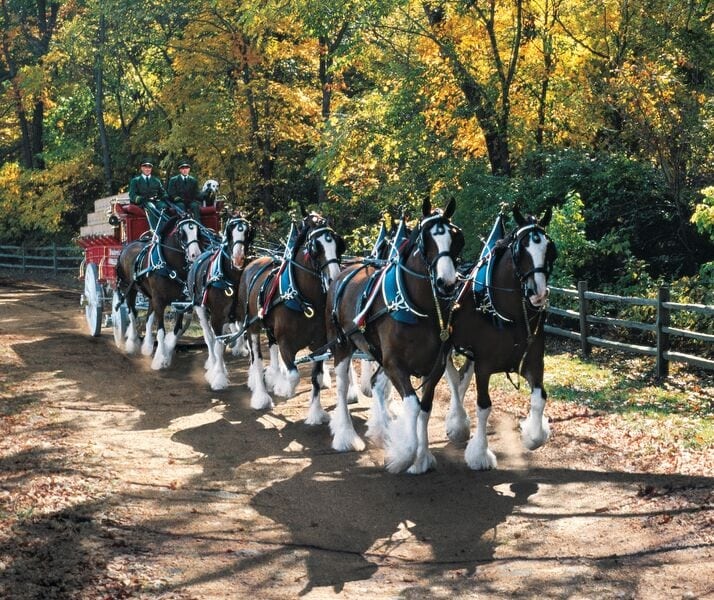 The world-famous Budweiser Clydesdales are scheduled to make several appearances in Brenham from September 17-24, 2018. This is their first time back in since 2000, and they will be staying at the Washington County Fairgrounds in conjunction with the 150th Washington County Fair.
Special events to view the Clydesdales include retailer appreciation days, case deliveries to downtown Brenham retail accounts, as well as select traveling one horse shows. Additionally, the eight-horse hitch will be harnessed and hitched to the famous red beer wagon at the Washington County Fairgrounds on Friday, September 21 and Saturday, September 22 from 6:15-8:15pm.
The Clydesdales' appearance in Brenham is one of hundreds made annually by the traveling hitches. Canadians of Scottish descent brought the first Clydesdales to America in the mid-1800's.
Horses chosen for the Budweiser Clydesdale hitch must be at least three years of age, stand approximately 18 hands – or six feet – at the shoulder, weigh an average of 2,000 pounds, must be bay in color, have four white legs, and a blaze of white on the face and black mane and tail.  A gentle temperament is very important as hitch horses meet millions of people each year.
A single Clydesdale hitch horse will consume as much as 20-25 quarts of feed, 40-50 pounds of hay and 30 gallons of water per day.
Each hitch travels with a Dalmatian.  In the early days of brewing, Dalmatians were bred and trained to protect the horses and guard the wagon when the driver went inside to make deliveries.
We hope you can join us for these festivities and celebrate with a cold Budweiser with the world-famous Budweiser Clydesdales while they are in the area.
Tuesday (9/18): Meet the Crew (no Clydesdales, just crew members) at Home Sweet Farm from 5:30-7:30pm
Thursday (9/20): Hitch of Clydesdales will deliver cases of Budweiser to Downtown restaurants and bars from 6:00-8:00pm
Friday (9/21): Clydesdale Hitch Show at Washington County Fairgrounds from 6:15pm – 8:00pm, and Clydesdale Hitch Rodeo Ride Through in Rodeo Arena from 8:00-8:15pm
Saturday (9/22): Clydesdale Hitch Show at Washington County Fairgrounds from 6:15pm – 8:00pm, and Clydesdale Hitch Rodeo Ride Through in Rodeo Arena from 8:00-8:15pm