22nd Annual Theatre Forum at Round Top
November 1, 2019

-

November 3, 2019

$75 – $120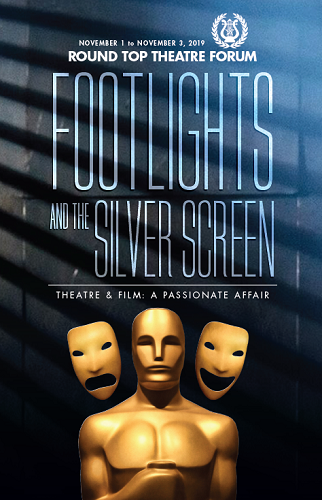 22nd Annual Theatre Forum: Footlights and the Silver Screen
Friday November 1 – Sunday November 3, 2019
This year's Theatre Forum will explore the connections between Theatre and Film. Both genres have been in a passionate affair for the last century, informing each other, competing with each other and inspiring each other.
What role do Theatre and Film play in this fast living age of social media, rapid changes in technology and the resulting perception of reality?
Our presenters will shine light on subjects such as Shakespeare as screenwriter, the transition from the stage to silent film, screen acting versus stage acting, animated opera and the music of the movies. Special guest artist Sayda Trujillo will examine themes from Shakespeare's Measure for Measure in a gripping performance, produced specifically for this event.
In addition, we are inviting more youth into our midst this year: Barbara June Dodge will conduct a workshop with Theatre students involving selected scenes from A Midsummer Night's Dream, cellular phones and a lot of creativity. The workshop will culminate in a presentation on Sunday morning.
"Don't miss this exciting conference. See old friends, make new ones, get inspired and stimulated, and enjoy Round Top in November. We will see you there!" – Sonja Bruzauskas, Theatre Forum Producer
Presenters joining Sonja Bruzauskas are Brad Sayles, James Belcher, B.J. Dodge, Sayda Trujillo, Ann Thompson, Felicia Hardison Londré, Tom Foral and Kate Pogue.
For more information, visit the website.
Related Events