Gumbo Cookoff with the Tennessee Stiffs at Home Sweet Farm
September 28, 2019 @ 12:00 pm

-

2:00 pm

Free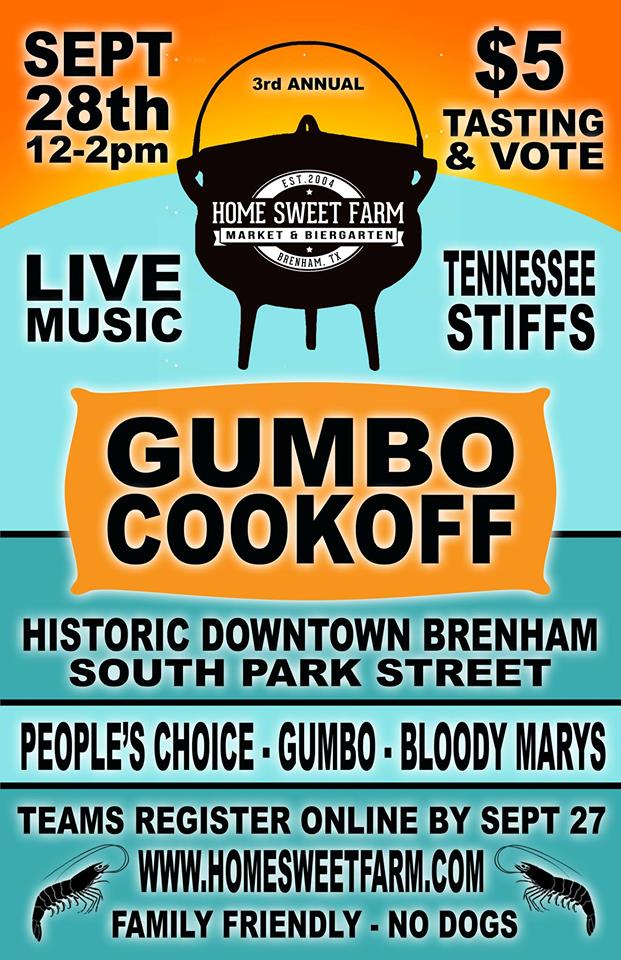 Save the Date and Join Us for the 2019 Gumbo Cookoff, Sept 28 at High Noon! With Live Music by The Tennessee Stiffs!
$5 per category gets you a tasting and a vote!
Three categories: Gumbo – Bloody Marys – Best Lookin' Booth
Teams compete for prizes. $50 to register… CLICK ON TICKETS TO REGISTER ONLINE
8am Set Up:
In front of Home Sweet Farm on Park Street. All teams are given a 10×10 space to compete in. Outdoor canopies are encouraged. Vehicles must be unloaded and removed from the Gumbo Cook Off area by 9:30 prior to cooking. Teams can begin cooking as soon as they are set up.
10am Start Cooking:
All teams must complete set up and be cooking on sight no later than 10am. All ingredients must be assembled on sight. Fresh and local ingredients are encouraged. Gas, wood and charcoal cooking is all acceptable. 5 gallons is recommended (If you run out early you miss votes). We expect 200+ participants.
12-2pm Judging:
Tickets are required for public tasting/judging in each category. Tickets can be purchased for $5 at Home Sweet Farm Market beginning 12 noon. Awards will be given at the close of judging, around 3pm.
Categories:
People's Choice Award – Gumbo – Bloody Marys – Best Lookin' Booth
4oz serving cups will be provided for public tasting/judging. Teams are encouraged to build a display Bloody Mary with garnishes for public viewing at your table (it's not just taste!)
Entertainment:
Live Music by the Tennessee Stiffs at 12 Noon and running until 3:30pm.
Related Events