Step Into the Past Historical Movie
August 4, 2019 @ 1:30 pm

-

2:30 pm

|

Recurring Event

(See all)

One event on November 4, 2018 at 1:30 pm

One event on December 8, 2018 at 1:30 pm

One event on December 9, 2018 at 1:30 pm

One event on January 5, 2019 at 1:30 pm

One event on January 6, 2019 at 1:30 pm

One event on February 2, 2019 at 1:30 pm

One event on February 3, 2019 at 1:30 pm

One event on March 2, 2019 at 1:30 pm

One event on March 3, 2019 at 1:30 pm

One event on April 6, 2019 at 1:30 pm

One event on April 7, 2019 at 1:30 pm

One event on May 4, 2019 at 1:30 pm

One event on May 5, 2019 at 1:30 pm

One event on June 9, 2019 at 1:30 pm

One event on July 6, 2019 at 1:30 pm

One event on July 7, 2019 at 1:30 pm

One event on August 3, 2019 at 1:30 pm

One event on August 4, 2019 at 1:30 pm

One event on September 7, 2019 at 1:30 pm

One event on September 8, 2019 at 1:30 pm

One event on October 5, 2019 at 1:30 pm

One event on October 6, 2019 at 1:30 pm

One event on November 2, 2019 at 1:30 pm

One event on November 3, 2019 at 1:30 pm

One event on December 7, 2019 at 1:30 pm

One event on December 8, 2019 at 1:30 pm

$3 – $5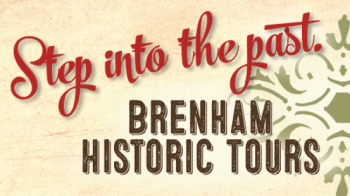 Step into the past the first full weekend of every month and view a few short films on the history of Brenham and Washington County inside the historic Simon Theatre in downtown Brenham.
The Dawn of Washington County tells the story of Dr. Richard Fox Brenham (our namesake) as well as the Honorable J.D. Giddings, Mrs. R.E. Pennington, and Big Foot Wallace.
Enjoy a tale about Reese Lockett – the "cowboy mayor" of Brenham.  His life and accomplishments are legendary.  From being Maifest king to starting the Salt Grass Trail ride, you'll be entertained by this colorful story.
And also learn about German Heritage – did you know the strong German heritage in the history of Brenham?  Hear the story of the days when being German was important to the development of the city.
Tickets can be purchased at the Visitor Center, $5 for adults and $3 for children under 13.  The run time of all three movies is less than 45 minutes.
Related Events