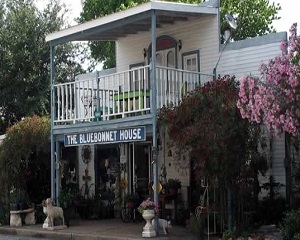 Bluebonnet House & Garden Center
We're in historic downtown Chappell Hill, Texas . . . half way between Houston and Austin. You'll find native plants, collectibles and locally made gifts.
​The shop carries a wonderful brand of candles, beautiful embroidered shirts, lotions and quaint, framed stitchery.
Dale makes an array of lovely handmade ceramics, many with a seasonal twist; some light up and others look so real you'll think they've come to life. Angels are another specialty of the shop. You can special order many items.
Each spring is a new beginning and along with the bluebonnets blooming everywhere around Chappell Hill, it brings lots of flowers to Bonnie's Garden, as the garden center is known.
You'll find many plants, some unusual or hard to find. Dale will try to locate unique items for your garden if there's something special you're looking for. A highlight of the nursery is the abundance of animal life you'll see as you stroll through our outdoor paradise.

5095 Main Street, Chappell Hill

(979) 836-2554