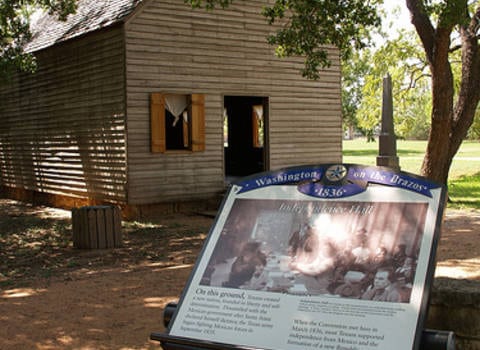 Washington-on-the-Brazos State Historic Site
The 293-acre park is located on the original town site of Washington, which served as the capital of the Republic of Texas. The complex features a state-of-the-art Visitors Center with hand-on interactive exhibits that walk visitors through the birth of a new nation – Texas. The Washington Emporium, located in the Visitor Center, is a premiere Texas gift shop.
Open year-round, the Park offers hiking trails, grills, playground & covered shelters, all free of charge from 8am until dark. Guided tours and programs are available year round. Stroll the Park trails where Texas was born. This historic site showcases Independence Hall where the Texas Declaration of Independence was drafted and signed on March 2, 1836.
The Complex includes a Conference Center, Education Center and Pavilions that are available to rent for special occasions – ideal for groups up to 400 guests.

23400 Park Rd. 12, Washington, TX 77880

936-878-2214