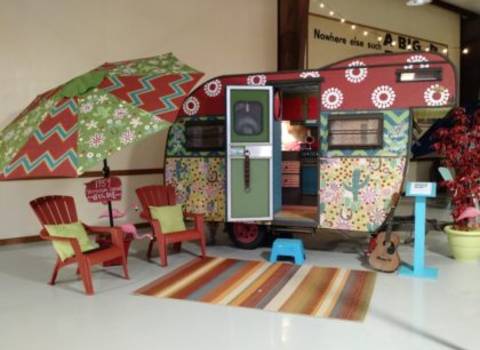 The Lone Star Glamp Inn
The Lone Star Glamp Inn is a unique lodging facility of glamorous camping in the heart of antiques shopping. This cool concept features vintage trailers inside a large, air-conditioned building. Each trailer can sleep 2 and has its own mini-fridge and "outdoor" space with comfy lawn chairs. The building also features a restroom/shower trailer, tables for playing games, lounging couches and chairs, cable TV and a bar.
This type of lodging facility is great for those dedicated to shopping in Round Top, Warrenton and Carmine during the official antiques weeks each year. The Lone Star Glamp Inn is also ideal for groups – family reunion, best friends weekend, scout groups, church groups and more!

4212 S Hwy 237, Warrenton, TX

512-797-9815